LGBTQ people are not a social or cultural problem. LGBTQ individuals are people who are connected by love and sexual attraction and who deal with issues of race, gender, age, legal and economic discrimination largely in intersectional silence due to explicit and internalized systemic homophobia and transphobia. The Williams Institute, an LGBTQ law and political think tank, counteracts this silence through scholarships and collects and analyzes data that demonstrate the continuing need for LGBTQ rights.
The data sheds light on the LGBTQ community: As of April 2020, there are an estimated 13,042,000 million LGBT people aged 13 and over in America. As of May, 1.7 million live in California, 15% of all LGBT adults in the US, legal director Christy Mallory told the Los Angeles Blade.
Brad Sears, founding director of the Williams Institute, remarked during a webinar on July 31, "Are we there yet? LGBTQ Rights and the Bostock Decision "that every number is a single LGBTQ person struggling amid the cacophony of the COVID crisis and uncertain economic future. This fight could potentially be exacerbated by the failure to enforce the landmark June 15 Supreme Court ruling in Bostock against Clayton County that Title VII protects workers nationwide from discrimination based on sexual orientation and gender identity.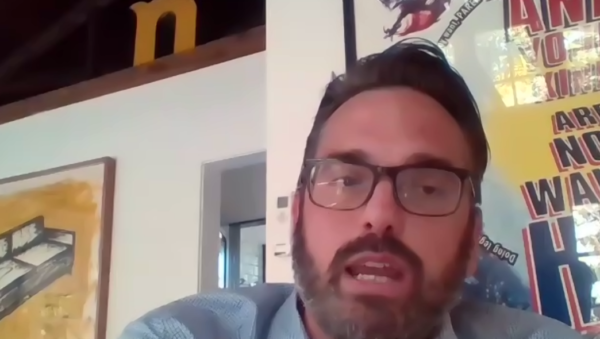 "We know that our workforce has more than 8 million LGBTQ employees, and that half of them live in states that don't have state laws protecting them from discrimination," Sears said. And since the Equal Opportunities Act is stuck in Congress, there is no federal law that specifically provides this protection.
"We know there are consequences," Sears said, noting numerous studies by the Williams Institute that reported much higher rates of LGBTQ unemployment, poverty, food insecurity and housing instability. "In this period of economic downturn, we can really see what this looks like," along with greater LGBTQ susceptibility to COVID-19.
And while "it is good to quantify the effects of this discrimination," Sears said, "we also need to recognize that each of these numbers represents thousands and thousands of individual people."
As a backdrop for the webinar, the Williams Institute released a pre-COVID paper that looked at state non-discrimination laws. One key finding: "3.6 million more LGBT people will receive non-discrimination protection if state-level gender non-discrimination laws in their states are interpreted in accordance with Bostock," Mallory said. HRC also released an analysis, "What the Bostock Supreme Court ruling means for state legislative efforts."
In addition to Sears, who is also Associate Dean of Public Interest Law at UCLA Law, Alphonso David, President of the Human Rights Campaign, Andy Marra, Executive Director of the Transgender Legal Defense & Education Fund (TLDEF), and Melissa Zahra, whose brother is one of the Plaintiff in the Bostock case was.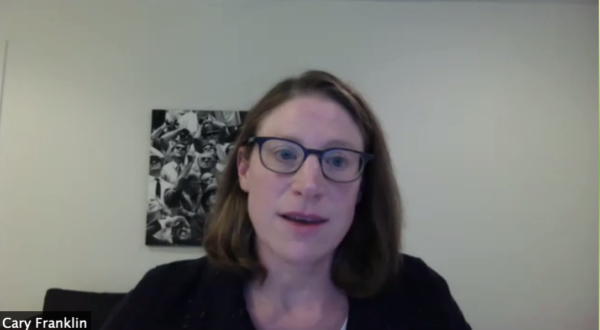 Professor Cary Franklin of the University of Texas set out the case. She explained how Justice Gorsuch, who drafted the positive 6-3 decision, interpreted Title VII with a textualism that looks at the text of a law rather than the original Legislators intended. Hence, the courts have ruled that "every time you discriminate against people because they are gay, lesbian or transgender, you are discriminating against them in part because of their gender". (Bisexual and non-binary people were not discussed.)
Dissenter Justice Alito was "apoplectic" about this interpretation, saying that the 1960s legislature did not intend this type of protection. Franklin noted, however, that lawmakers at the time did not consider maternity or sexual harassment discrimination as forms of behavior that were gender-based. "Now the court agrees that these things are sex discrimination."
Unfortunately, Franklin said, the court did not end with three possible exceptions to avoid violations of the rights of religious people: the exception in Title VII itself for religious organizations to favor "fellow religionists" and discriminate against those who do not. do not behave according to the tenants of religion; the "ministerial exception"; and Expanded Interpretation of the 1993 Restoration of Religious Freedom Act (RIFRA).
"The ministerial exception is not part of Title VII. It is a court-created doctrine," Franklin said. "The court interpreted the first amendment to mean that religious organizations that hire ministers do not have to obey an anti-discrimination law. With the exception of Title VII, you can discriminate on the basis of religion. With the ministerial exception, you can discriminate in all areas – race, national origin, gender, disability and age, and anti-discrimination measures. "
Franklin put it in a larger context:
"It is part of a huge movement in religious law to weaken the effects of the anti-discrimination law. The courts have broadened the concept of 'minister'. It has expanded quite a bit." When I say "minister" you think of ministers, priests, rabbis, imams. It no longer means that in the law. It increasingly means workers for religiously affiliated organizations.
As you may know, a decision was made this summer involving two fifth grade teachers from a Catholic school. These teachers filed age and disability discrimination lawsuits. And the court said their employer is not required to obey the anti-discrimination law because these teachers are ministers.
This is an extension of the law as these teachers did not have any special religious training. They were not given the title "Minister". They spent most of the day teaching math, English, and science – but the Court considered them ministers. Opposing Justice Sonia Sotomayor says this is extremely worrying. Trainers, camp counselors, social workers, in-house lawyers, media workers and many people who work for religious organizations could now be counted as ministers.
And I will tell you that my concern and the maximalist nature of the ministerial exception would extend to health care. You can imagine, and this is certainly the movement that argues that religiously affiliated hospitals, the people who work for them, nurses, maybe even doctors, serve the sick.
This is a campaign to define an enormous part of the American workforce as ministers and deprive them of all anti-discrimination protection, especially the protections announced in Bostock. But any protection of Title VII. "
The third exception mentioned by the Court is RIFRA, originally enacted by the left "as a shield to protect the religious freedom of minority groups violated by laws of general application". But now it's being used as a sword to give religious individuals permission to discriminate against others by exempting them from the overall anti-discrimination regime, Franklin says.
"If the court continues to interpret RIFRA to excuse religious organizations from the mandates of the anti-discrimination law, that will really be the monster that eats the anti-discrimination law," says Franklin. "We won't have much of it anymore."
Melissa Zahra underscored Sear's statement that discrimination hurts real people and shared the story of her late brother Donald Zarda, who sued Altitude Express, claiming that his employment was terminated because of his sexual orientation.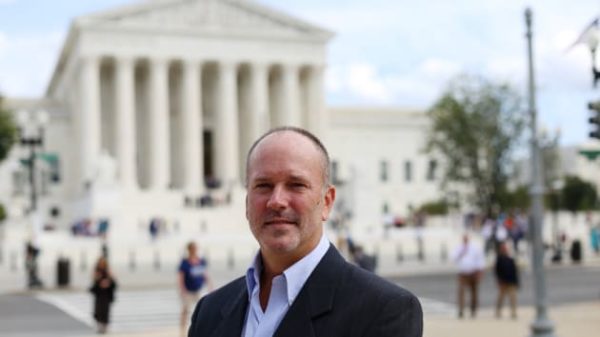 Gerald Bostock (Photo courtesy CNBC)
Zarda's lawsuit was followed by a lawsuit from Gerald Bostock alleging he was dismissed for being gay by officers in Clayton County, Georgia, and a lawsuit from Aimee Stephens, an employee of R.G. & GR. Harris Funeral Homes, Inc., which claimed she was fired for being transgender.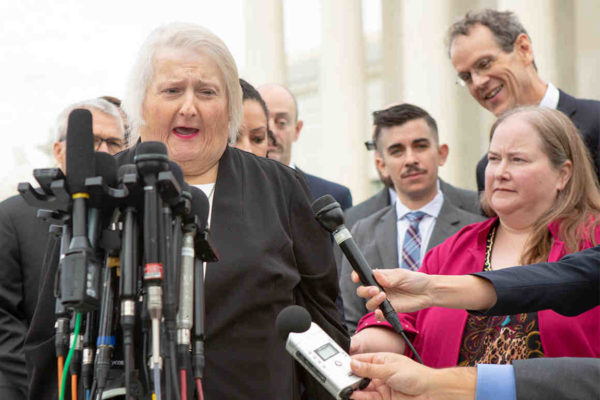 Aimee Stephens (photo courtesy ACLU)
Melissa Zahra wanted to give her brother's story a face behind the story.
"Everything that was important to my brother for most of his life was in the air. This was something he discovered when he was in the military, and from the moment he made his first jump, his mission was to be in the air.
He received every single certification a skydiver could get. He easily collected over 10,000 jumps. He got his pilot's license. He has a degree in aviation management. He even liked zip lining – just the way you are in the air.
After discovering skydiving, he had the full support of my family because we loved to see how happy he was. It became his whole world and all along what he would travel and teach and be an instructor in all these different dropping zones and airports and different countries. And whenever he got home he had a new set of videos for all of us to watch. And of course we found it scary, but also cool. And you know, he was just so happy. It was his passion and he loved sharing it with people. When he decided to devote his career to the subject, he was actually in engineering school and decided that this is what he wanted to do and what made him happy.
It was around this time in 2010 when he was a long skydiver and had a lot of experience. He worked in a drop zone in New York, doing tandem jumps that tied you to the other person with close physical contact.
The instructors and the people at work joke a lot because people are understandably nervous, especially the beginners. You're trying to break the ice and lighten things up a little. To make a student more familiar with his close physical contact, my brother mentioned that he was gay – so to speak, "Don't worry about me. I'm gay. & # 39;
After that jump, he was fired from the job he loved so much. He was just totally devastated.
It's important to note that this wasn't just a skydiving job, it was a summer job for him. It was all his passion. He feared that it would be more difficult to find a job at other skydiving sites since it is a small community and people are divided and he didn't want to be viewed as difficult or whatever – but at the same time he knew he was had to stand and that it wasn't fair and that it wasn't right. So he took this suit against his previous employer and it just went on as it felt forever. He would ask my sister, my mother, and me for advice and support. He was just heartbroken.
And at that point he was taking a little more risks because he felt like, "I won't be able to work." It changed my life. "And he started taking riskier jobs. He started doing base jumping, wing suit flying and the combination of all of these. And that ultimately led to his death in an accident in 2014.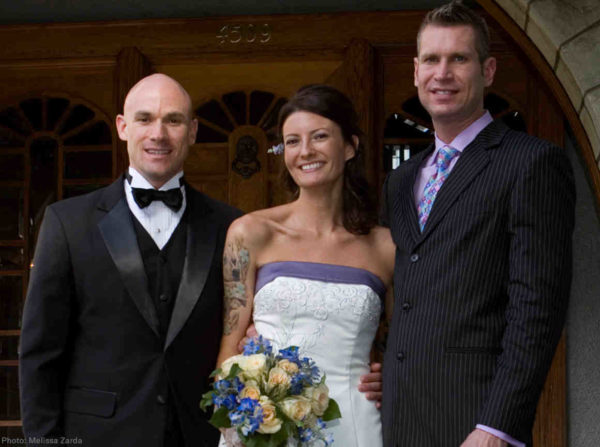 Don Zarda, Melissa Zahra, and Bill Moore (photo courtesy ACLU)
At this point, I and his partner, Bill Moore, stayed behind as executors of his estate and we decided that we definitely had to follow this up in Don's memory because it was so important to him and he wanted nothing more than to clear his name.
So that's what we did. And we had a wonderful team of people who helped us along the way. And I can't even imagine I could have done this without her. Every single person was so amazing. And the judgment came out and we were beside ourselves – and there we are today. "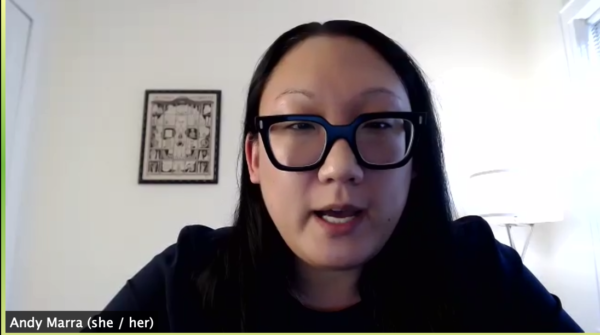 Andy Marra from TLDEF spoke about the importance of trans worker Aimee Stephens to bring her case – the first trans rights case to be negotiated by SCOTUS. She was represented by the ACLU with trans lawyers Gabriel Arkles and Chase Strangio appearing in a conservative court, and transgender leaders across the country signed numerous amicus letters "to make sure our voices are well represented". Unfortunately, like Don Zarda, Stephens did not see her victory at the Supreme Court.
"LGBTQ + people won under Title VII of the Civil Rights Act of 1964," said Marra, "and LGBTQ + people across the country are the blacks and browns who came before us and fought so hard to protect civil rights , indebted to you. " "
Marra focused on Samuel Alito's sharp opposition to justice and some of the challenges trans people face as an "optimistic person" who believes that "our movement will win" – through a movement and an activist Lens.
Marra's first concern was how Alito compared the litigants to pirates. What worried Alito's dissent most was that it "relied on harmful and already debunked myths about our community," Marra said. "LGBTQ people were essentially compared to rapists and sexual predators. And we were also cast as people who had suffered from severe mental illness. "
Marra also noted the "hopeful aspect" of the movement of Alito's dissent: "In essence, Justice Alito has set up a roadmap to promote legal equality for transgender people, and some of that work is already underway," such as access to Health care and protection, segregated sports facilities, and transgender people recognized with the correct pronouns.
There are a number of active litigation based on Title VII, including health care. One of TLDEF's lawsuits was cited by Alito, "and we are absolutely proud to be part of the parade of the terrible, as can be safely described," said Marra.
"With this decision, we have a strong argument to discuss future litigation," said Marra. This is a window of time for us regarding pronouns and the first change. There was a separate section in the Alito Dissent that dealt with freedom of expression and expressed concern that people are being forced to use gender pronouns against their will. "
Although military issues are not part of TLDEF's litigation portfolio, Marra noted that there are more than 14,000 trans-service members, even though the courts have ruled Title VII does not concern them.
"It is worrying," said Marra, "that the military is the largest employer in the country for transsexuals and I think it will be very interesting to see how this particular problem develops."
Finally, Marra pointed out the importance of educating lawyers and law students, especially those involved in the public interest or pro bono work, about how Bostock deals with trans people, especially people of color.
"There is a belief that this latest decision and Title VII will have no impact on their everyday lives," said Marra. "I think it reflects the basic struggles for transgender people to even get a date or even have access to economic opportunities, let alone get fired from a job."
Sears introduced HRC's Alphonso David with awards. "I'm just overwhelmed by what you've achieved there," he said.
David noted that the Williams Institute has been "so instrumental in the movement over the past few decades. I know I've been doing this work for over 20 years and relying on research from the Williams Institute. "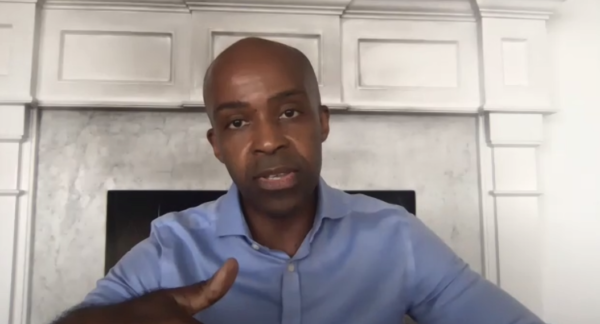 The Bostock decision, said David, "yes, it is a significant decision. But there are also significant limitations. "
The verdict reminded him of Oncale's 1998 lawsuit against Sundowner Offshore Services, Inc., filed by a male oil rig worker who allegedly suffered repeated sexual harassment by male workers. Justice Anton Scalia wrote in the majority opinion that discrimination in the workplace includes sexual harassment by male employees.
"It was a great decision, but we were also concerned about the request," said David. "And we were concerned that involvement in Oncale was limited, or same-sex harassment was limited to three situations listed in the involvement. We were also concerned about the difficulty of proving an attacker's sexual desire or orientation based on the inference that is not actually suspected and how our plaintiff must prove that someone was actually harassing them when the sexual orientation was off Person may not be suspected in these cases. "
David noted that there have been many decisions over the years that have been inconsistent regarding the Oncale application. It was the same with Bostock.
"Here we have an important decision that says that LGBTQ people under Title VII should be treated the same as anyone else, since sex includes sexual orientation and gender identity, which is great.
However, we know the limitations: the court said these are not religious objections – they are not talking about the issue. You certainly aren't talking about gender spaces so we're talking about bathrooms. We also talk about sports. These issues were not addressed by the Bostok Court, and I am not suggesting that we would lose these cases if they were referred to the Supreme Court – but it does open the possibility that we will face these cases in the near future, in which opponents of equality will use Bostock against us. So I'm worried about that. "
David also addressed the impact of Bostock on people with color, as the discussion about the LGBTQ community in the past often did not include people with color.
"That has to change," said David, considering how Bostock doesn't apply to public housing.
"We have public housing that is not included in the 1964 Civil Rights Act," he said. "So restaurants and hotels are certainly included. But there are other places – retail stores, salons, transportation hubs – that are not included, and that is a major concern of mine. "
David noted that "People of color continue to face ongoing discrimination in shops and salons on a daily basis when they have access to transportation services like car services and taxis."
He cited the example of employees in a neighborhood in Georgetown, Washington, DC who used a mobile app to profile suspicious shoplifters.
"When they checked the data, 90% of the photos they took were of black people, often accompanied by racist language," David said. In Wisconsin, "a black professional basketball player was denied access to a jewelry store because of his race. This is happening all over the country, "where states or places do not have anti-discrimination laws.
"There's no federal law protecting us if I get caught in an Uber or Lyft as a black or a gay. There are no federal laws that protect me in the case of a retail business when I want to buy a suit or a t-shirt. I can be discriminated against if I can't use state law, "said David. "Bostock is incredibly important to us and a major milestone. But we cannot lose sight of how much work we have to do. "
Here are additional resources:
Cary Franklin's 2012 Harvard Law Review article quoted by the Bostock Supreme Court:
The latest legal steps of the human rights campaign:
TLDEF is new Initiatives:
Boston v HHS filed on July 9th by TLDEF and other civil rights groups to challenge new rules published in relation to Section 1557 of the ACA. Https://tldef.org/stay-informed/breaking-were-suing-administration/

The TLDEF's Trans Health Project takes a comprehensive, systematic approach to expanding access to transgender-related health care by educating affected people about their legal rights. Maintaining a robust movement to achieve balanced health care; Extending the enforcement of existing legal protection; and to drive the change in clinical guidelines among insurance carriers.
Here is the full panel discussion and questions and answers at the end:
(embed) https://www.youtube.com/watch?v=tKLtak_veNQ (/ embed)