Red Bank, NJ – New Jersey special needs trust lawyer, Christine Matus (https://matuslaw.com/4-diverse-life-challenges-inherent-in-raising-a-special-needs-child/) of The Matus Law Group, has released a new article titled "4 Diverse Life Challenges Inherent in Raising a Special Needs Child." The article discusses the unique difficulties that families face when raising a child with special needs and provides insight into how to navigate those challenges.
As a New Jersey special needs trust lawyer, Ms. Matus understands the complexities and nuances of raising a child with special needs. In the article, she outlines four major challenges that families may face, including financial concerns, legal issues, educational barriers, and emotional strain.
According to Ms. Matus, "The financial burdens of raising a special needs child can be overwhelming, and many families don't know where to turn for help. It's important to explore options such as government benefits, special needs trusts, and other financial planning strategies to ensure that your child's needs are met both now and in the future."
The article also addresses legal issues that may arise, such as guardianship, estate planning, and special needs trusts. Ms. Matus emphasizes the importance of seeking legal guidance to ensure that families have the necessary protections in place for their child's future.
Education is another significant challenge for families with special needs children. Ms. Matus notes that "Navigating the educational system can be daunting, but it's essential to advocate for your child's needs and ensure that they have access to the resources they require to thrive." The article offers tips for working with schools and educators to create an individualized education plan (IEP) that meets a child's unique needs.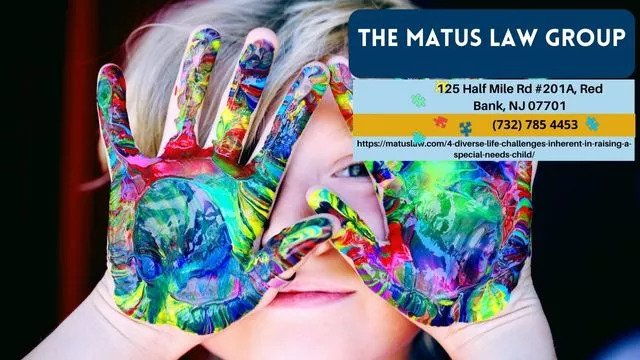 The article addresses the emotional strain that families may experience. "Caring for a child with special needs can be incredibly rewarding, but it can also be emotionally draining," says Ms. Matus. "It's important to seek support from family, friends, and professionals to help manage the stress and emotional challenges that come with raising a special needs child."
Raising a special needs child is associated with a distinct set of challenges. The issue of accessibility remains a constant concern, leaving families feeling excluded and isolated from activities they enjoy due to insufficient accommodations like narrow or uneven footpaths, lack of ramp access, or unavailability of changing places toilets.
Furthermore, families of special needs children frequently encounter a lack of comprehension and empathy from others regarding the obstacles they face. This may involve difficulty in attending social events due to sensory sensitivities, finding suitable clothing that accommodates their child's needs, and overcoming unique communication barriers that necessitate specialized strategies.
The article concludes with a call to action, urging families to seek the guidance and support they need to navigate these challenges. "At The Matus Law Group, we understand the unique needs of families with special needs children. We are dedicated to providing compassionate and comprehensive legal services to help families protect their loved ones and secure their future."
About The Matus Law Group
The Matus Law Group is a New Jersey-based law firm specializing in elder law, estate planning, and special needs planning. The firm's founder, Christine Matus, is a Certified Elder Law Attorney and a member of the National Academy of Elder Law Attorneys. Ms. Matus and her team are committed to providing personalized and comprehensive legal solutions for families in need.
Media Contact

Company Name
The Matus Law Group
Contact Name
Christine L Matus
Phone
(732) 785-4453
Address
125 Half Mile Rd #201A
City
Red Bank
State
NJ
Postal Code
07701
Country
United States
Website
https://matuslaw.com/