We have all seen how stressful Zoom meetings can be and how difficult it is to focus when a speaker has poor audio. Since I will be teaching on Zoom this semester, I wanted my video and audio to be better than my laptop. Besides, I needed
A facility that would contain my class notes.
Something that allowed me to position myself so that it was roughly what I am teaching.
A separate workstation so I didn't have to use my laptop, which has all kinds of programs running and dozens of windows always open.
Something dedicated only to teaching that I could configure the way I wanted it.
Something compact that can be easily moved out of the way as I use this space for my home gym and playing drums. (Yes, these are sheet music for my drums now on the workstation.)
I am very happy with the setup that I have chosen.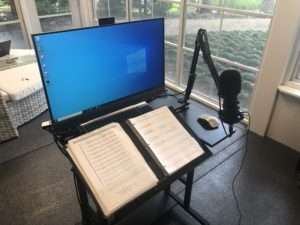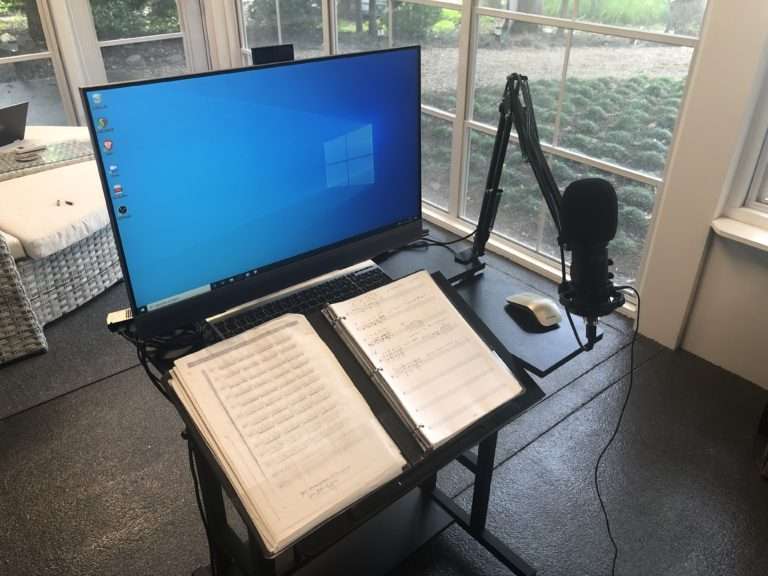 It consists of the following devices with Amazon prices (in descending order of price). (Unfortunately, I missed buying the $ 275 HP monitor from Staples before it sold out).
HP EliteDisplay E273m 27-inch Black / Silver LED-Illuminated Monitor (with built-in 720p popup webcam / microphone) ($ 323)
Mini Computer Stick Intel Atom x5-Z8350 and pre-installed Windows 10 Pro, 8 GB RAM, 120 GB ROM, 4K HD, Bluetooth 4.2 and Dual Band WiFi 2.4G / 5.0G (175 USD) (now out of stock)
UNICOO – Rolling Computer Workstation, Height-Adjustable Mobile Standing Desk ($ 100)
Pyle PDMIUSB50USB PC Recording Condenser Microphone – Blue LED, Adjustable Gain, Headphone Jack, Mute, Tripod Stand ($ 60)
OGDRC 10.2 ″ Selfie Ring Light with Tripod Stand & Phone / Pad Holder for Live Sream / Makeup, Mini LED Camera Ring Light ($ 36)
USB 3.0 hub, QGeeM 5-in-1 USB hub for laptops, 2.5-foot USB cable hub with SD / TF card reader and 3 USB 3.0 ports (5 Gbit / s transmission)
The total price for this setup was $ 704. I also use a set of wired earbuds to plug in the microphone so I can hear myself and the students, as well as a wireless keyboard / mouse that I both already owned. The monitor has fine speakers for conferences, but that way I don't disturb others in the house. Zoom makes it easy to switch between the monitor speakers and the Pyle microphone headphone jack. I will experiment with what seems most natural. The microphone sounds fantastic, by the way. Highly recommend it for $ 55.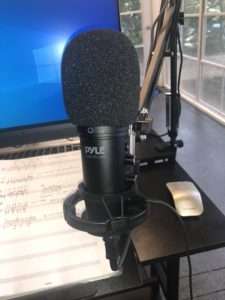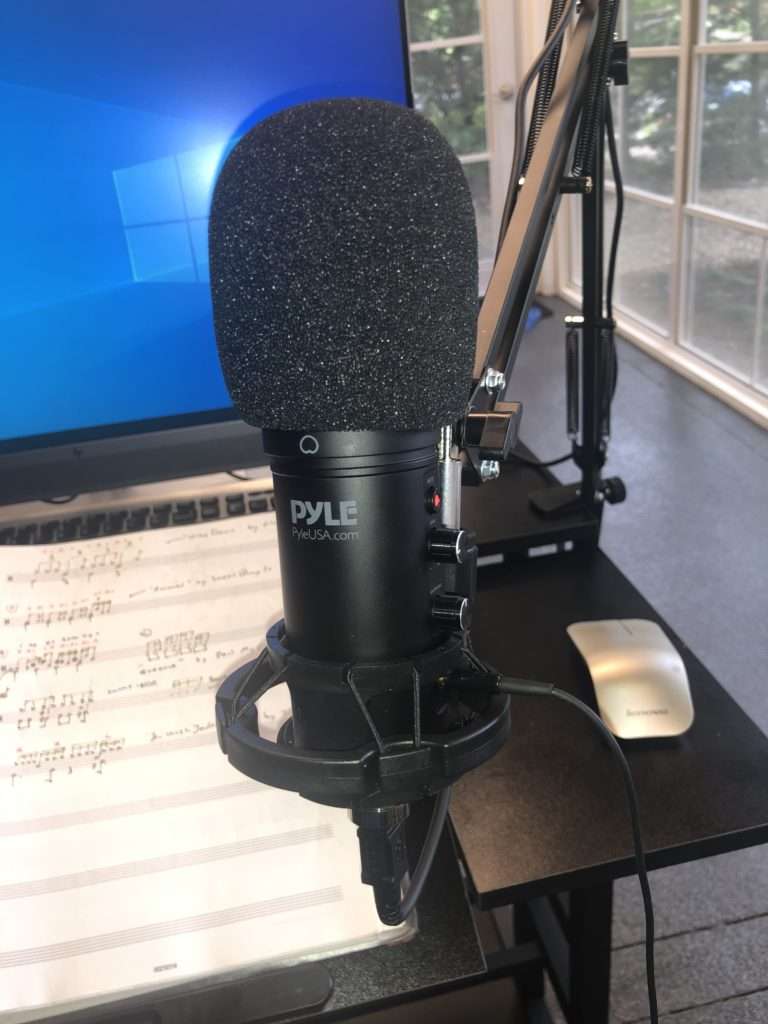 The light ring contains holders for an IPad and an IPhone as well as a Bluetooth remote control for taking selfie pictures with the IPhone, which is also mounted in the ring.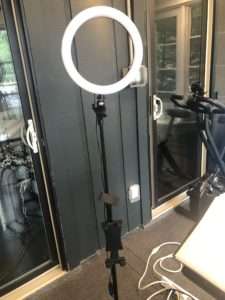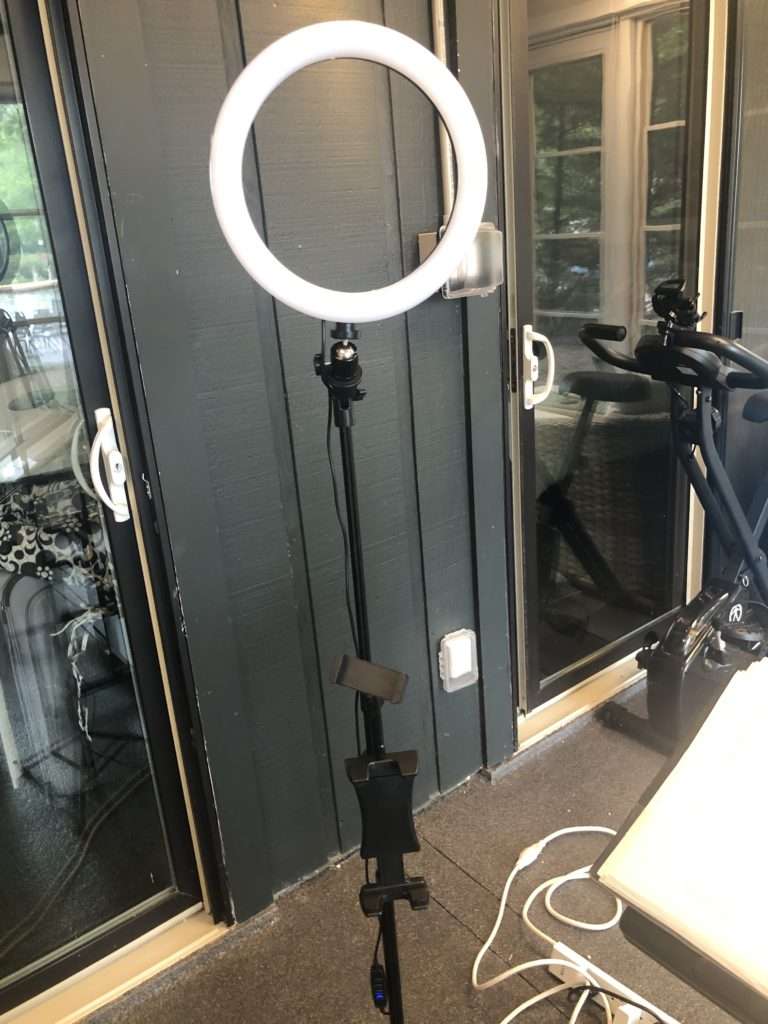 I used the free OBS Studio software with a free Reaper ReaGate VST plug-in to remove the hum from the nearby heat pump. I also use the Brave Browser, which has improved privacy settings compared to Chrome
I bought this particular computer cart because it had the tilt shelf for my notes. When configured this way, you can use the mouse but not simply use the keyboard. Since I won't be using a keyboard with this setup, that's fine with me. But others might figure out how to play with the shelves for better keyboard access – or get a different cart. I also like this one because, in addition to the tilting shelf, it is adjustable from sitting to standing height (much higher than in the picture) and allows me to teach on a stool, as I sometimes do in the classroom. When I'm sitting, both the microphone and the light ring are out of the picture. It's decently done for $ 99.99.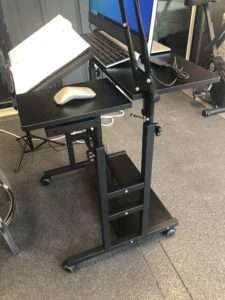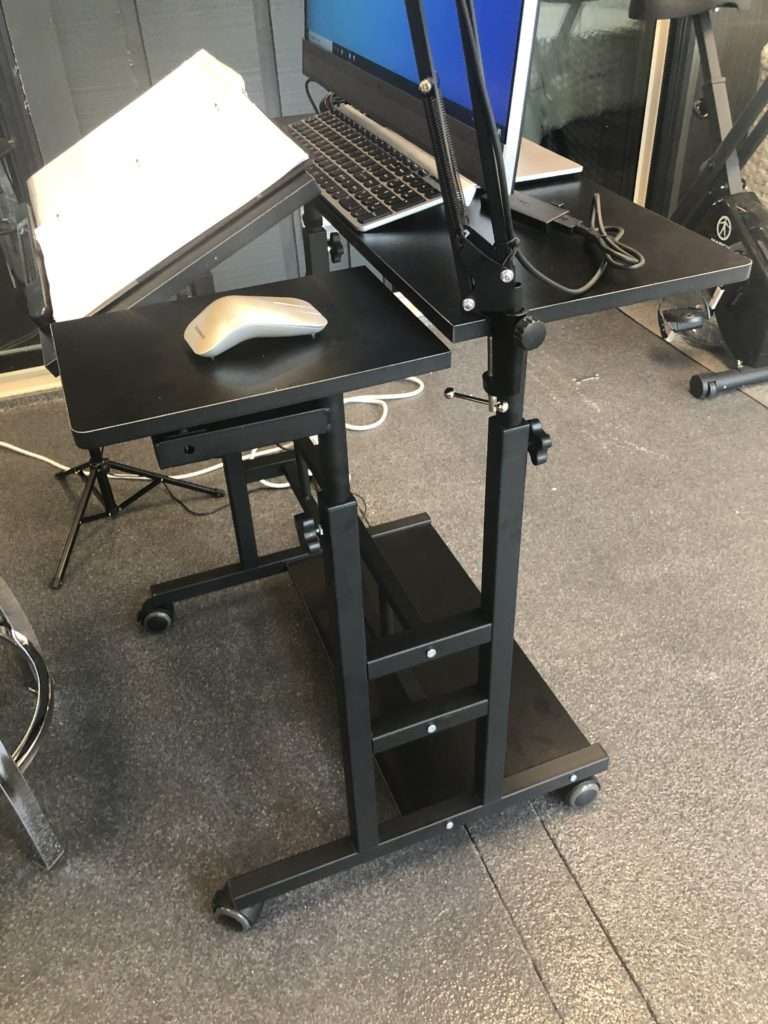 This is the mini stick pc: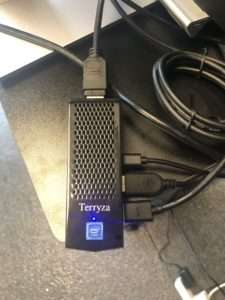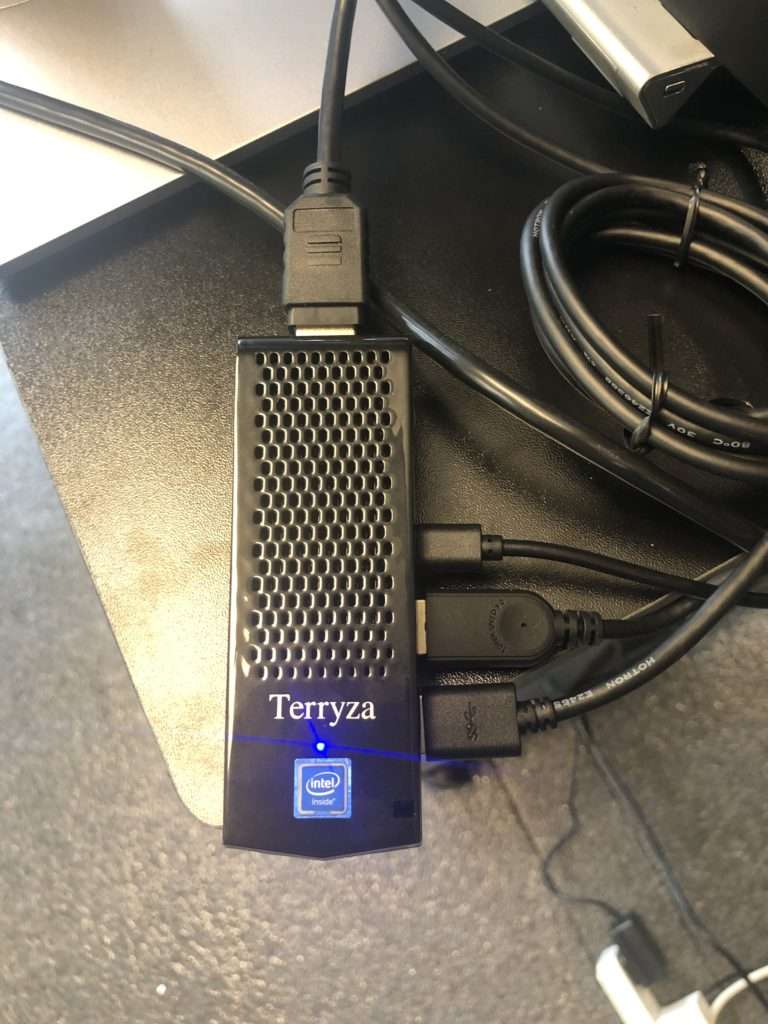 Unfortunately, the Terryza PC Stick with 8 GB RAM and 120 GB SSD that I bought is no longer in stock. I bought this to make sure it could handle streaming video. $ 175 for a full-featured Windows 10 Pro PC was pretty good, I thought. The cheaper prices still available could work.
(Link to the standing desk now fixed)