LOUISVILLE, Ky. (WDRB) – Sorry for interrupting this Tiz the Law love festival.
I picked the colt, trainer and jockey who I believe are the most likely to beat the most overwhelming Kentucky Derby favorite (3-5) in three decades.
The horse is Honor A.P. The trainer is John Shirreffs. The jockey is Mike Smith.
The colt has dynamic bloodlines which he showed to have won the Santa Anita Derby. That explains why Honor A.P. is the second choice at the derby on Saturday with 5 to 1.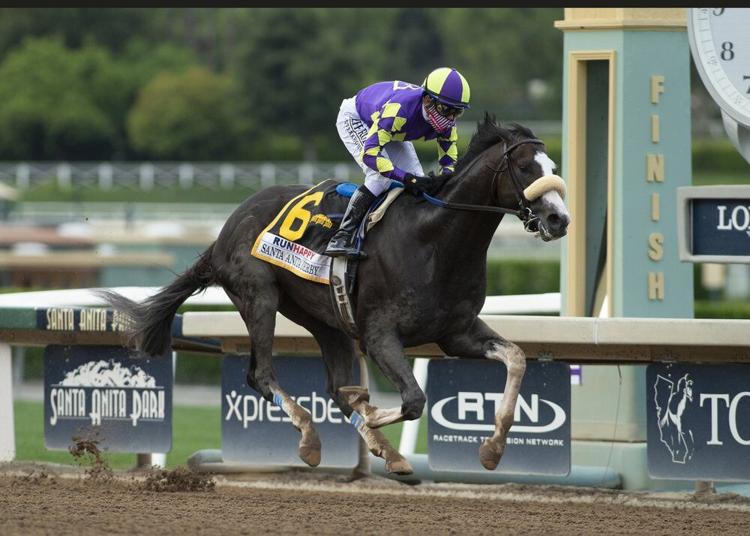 On a photo by Benoit Photo winning C R K Stables Honor A.P. and jockey Mike Smith, the RUNHAPPY Santa Anita Derby Class I valued at $ 400,000 (Benoit Photo via AP) on Saturday, June 6, 2020 at Santa Anita Park in Arcadia, Calif.
The trainer scored a mammoth derby with Giacomo 15 years ago and made Zenyatta Horse of the Year 2010.
But Mike Smith is the X, Y, and Z factors in Saturday's race.
Smith is Tom Brady and Justin Verlander, the most tenacious, tried and true big money big moment performer in the game.
Smith and Honor A.P. are the combo Tiz the Law and his relatively untested jockey Manny Franco (two hard-hit Derby mounts) should fear, particularly with Smith in 15th place, a spot in Franco on Saturday.
"I think any horse is overlooked when you see one dominating the path (Tiz the Law)," said Smith. "We hope the mile and a quarter are right down Honor AP's alley. He should fire his" A "race. You just have to hope his" A "race is good enough.
"I have a lot of confidence," added Smith. "I really believe in his talent. I don't think you will see the best of him until the first Saturday in May."
A pause – and then smith laughter.
"I mean September," said Smith. "We are sorry."
No apology needed. It's been a confusing year for everyone. However, if any driver on the first line after Tiz the Law has earned a reckoning for Derby 146, it's Smith.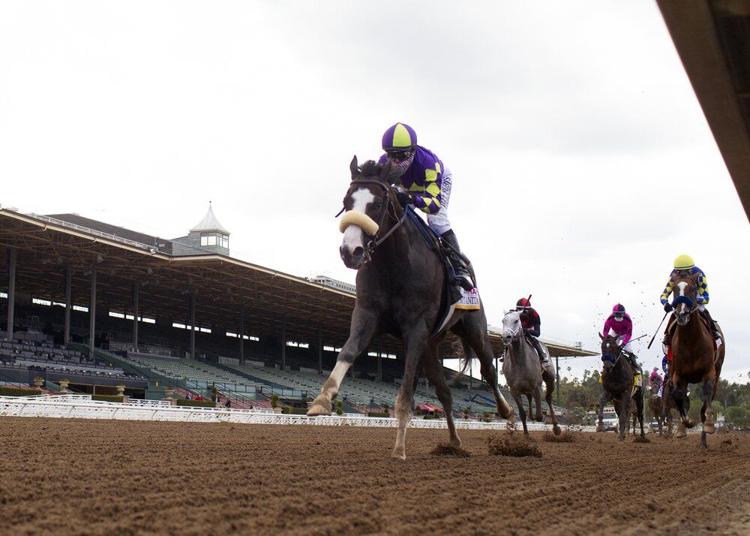 On a photo by Benoit Photo winning C R K Stables Honor A.P. and jockey Mike Smith, the RUNHAPPY Santa Anita Derby Class I valued at $ 400,000 (Benoit Photo via AP) on Saturday, June 6, 2020 at Santa Anita Park in Arcadia, Calif.
If Smith scores a goal on Saturday, he will become the oldest jockey (he turned 55 in August) to win the race. As soon as he leaves the starting gate, Smith will join his idol Bill Shoemaker as the only rider with 26 Derby mounts. Credit Smith with two wins, four seconds and a third.
"Any time you've been blessed to be mentioned in anything with Shoemaker, be it playing cards or horse riding, it's an honor," said Smith. "I only noticed that the other day and got goose bumps when I found out."
Smith arrived in Louisville from Los Angeles on Monday and stayed in his downtown hotel room apart from his daily two-hour training sessions and evening dinner trips to one of his sponsors' steak houses, Jeff Ruby.
He passed a COVID-19 test on Monday. A second was required on Thursday. If he passes the second, he will be released for his first trip to Churchill Downs on Friday.
Smith won the derby in the long run working with Shirreffs on Giacomo. Two years ago he scored a triple crown winner with Justify.
He was also beaten on four Derby favorites, including one (Holy Bull) who finished 12th in the Derby and ended up Horse of the Year in 1994.
"All it takes is a little bit of it and a little bit of it, and the next thing you know is someone else jumped up there and won," said Smith. "It can happen."
Smith will tell you that Tiz the Law deserves every heel and camera angle the colt inspired by winning the Florida Derby, Belmont Stakes and Travers during this insane racing season.
Smith will also tell you that Honor A.P. has trained spectacularly in the last month. After the colt won the Santa Anita Derby at 2 3/4 lengths on June 6th, Smith said Shirreffs did not prepare him for his best performance in his last race. Honor A.P. was beaten by Thousand Words on August 1st in Del Mar by three-quarters.
Since then, Smith has done more of the colt exercise. Shirreffs has encouraged more challenging workouts.
"We stepped it up and he responded," said Smith. "His energy level is better. He should be fitter. The further the better. He just seems to come towards you.
"He trains like he's going to the Santa Anita Derby, if not better," added Smith. "We hope for the same answer and the same results."
Don't forget the situation after the position. In Post 15, Smith will be able to follow Tiz the Law in Post 16 and Authentic, the third choice, in Post 17.
I asked the jockey if he and Shirreffs would agree on a lead-up strategy to attack the favorite in the smartest way.
"Sure," said Smith. "But you have to play it as soon as it comes. You have to be able to switch to plans B, C, D, E, F, down to Z if you have to.
"Whatever it takes to get there first if you have to," he added. "(Shirreffs) depends on me doing this. That's why he hired me."
Copyright 2020 WDRB Media. All rights reserved.