Lawyer
Use of Covid-19 for technology-based studying sooner or later
On Wednesday, June 3, 2020, Kojo Bentsi-Enchill Esq., Founder and retired senior partner of Bentsi-Enchill, Letsa & Ankomah, delivered the fifth edition of the GIMPA Law and Ethics web series on Zoom: Using COVID – 19 to bring technology-based learning into the future. This session was moderated by Ms. Joan Selorm Tsorhe, a lecturer at the GIMPA Faculty of Law.
The age of information and communication technology (ICT) is characterized by the disruptive and creative effects it has had on various facets of socio-economic life. However, due to the inherently conservative nature of the legal profession in Ghana, there has been no drive for technological change in Ghana's legal sector. However, COVID-19 has driven technological change, particularly in legal education, and it is imperative that this be maintained.
To make this easier, everyone involved has to deal with a number of issues, including: the introduction of continuous technological law education (CTLE); the provision of fast, stable and affordable Internet access; the development of mandatory modules for law and information technology; Providing online lectures as an alternative and / or supplement to the traditional way of personal provision; and access to virtual legal libraries and access to legal databases.
However, this requires massive logistical expenses and the necessary infrastructure as well as the need for a general change of attitudes. Therefore, all actors in legal education in Ghana must make great efforts to create an efficient and results-oriented education system that produces first-rate, well-rounded graduates for the legal and labor market in general.
Download the GIMPA Law & Ethics Policy Paper Vol.1 No.5 here: https://ghanalawhub.com/wp-content/uploads/2020/07/GIMPA-Law-Ethics-Policy-Paper-Volume-1- Issue- 5.pdf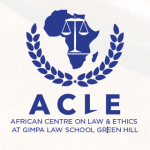 African Center for Law and Ethics -GIMPA
The African Center for Law and Ethics (ACLE) at the GIMPA Faculty of Law is a research, scholarship and training center founded in 2017 to promote the growing commitment to law and ethics on the African continent.
Contact the ACLE at acle@gimpa.edu.gh